By Henry Ezeokeke
To foster the development of children's literature in Nigeria, Goethe-Institut Nigeria organized a workshop for 6 children's storybook authors and 6 illustrators from 17 to 21 March 2019 in Lagos, Nigeria. Ute Krause, one of Germany´s best-known children's book author and illustrator, and author of more than sixty children's books published in Germany and throughout the world, (you can check her out at www.ute-krause.com) alongside Nigerian illustrator Abdulkareem Baba Aminu, award-winning cartoonist, illustrator and journalist who has created work for numerous book publishers, Nigerian and foreign conducted the workshop.
I Henry Ezeokeke an Illustrator and cartoonist based in Lagos, Nigeria was privileged to be among the 12 participants selected out of an overwhelming number of entries that applied to participate. The projects aim was to promote and support the development of authentic children's literature that reflects the cultural and social reality in Nigeria. A further objective was helping participants understand and appreciate the collaboration required between writer and illustrator in creating a successful children's book. Topics like story and plot structure were explored. The importance of having a beginning, a conflict, a resolution and an ending in your story and also stereotypical character types like the hero, villain or antagonist and the shape shifter.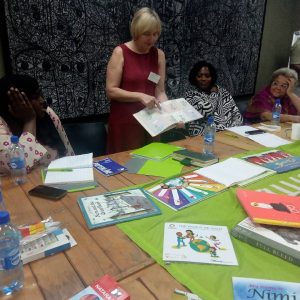 As an aspiring children's book writer myself I gained much from Ute Krause's wealth of experience acquired over the years writing and Illustrating children's books. She said that a writer should sometimes think like a film maker or cinematographer by understanding good visual storytelling in terms of camera angles. She stressed the importance of keeping a children's picture book simple. Using simple words and phrases and taking out redundant and needless details. For inspiration and instruction, She showed us samples of her published children's books including those of other authors. To combat writers block she suggested drawing inspiration from your immediate environment, your family, (kids especially) your culture, and even events from your past. Engaging in writing exercises every morning was also suggested. (The dreaded morning pages!!!)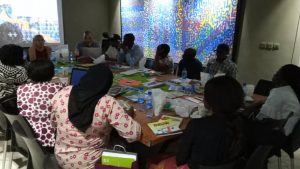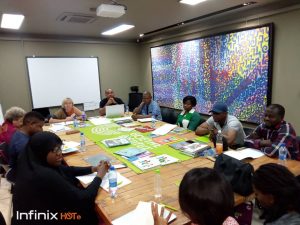 My favorite part were the storybook layout lessons displayed on the projector. We were shown the interior of a children's storybook, we saw a variety of layout options. I saw text being wrapped around images, I saw images taking up 80% of the page thus creating impact. Text was flushed left and right. Images without backgrounds. Images on white space. Images centered. The possibilities were endless! All this layout techniques help to enhance each page and make it more interesting. Up until that workshop I had been used to the typical layout of text and image laid out on opposite sides of the page. That layout style is dull and uninteresting and results in a static look. Sadly it is still employed by many of our local publishers.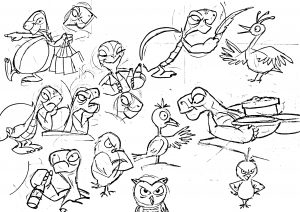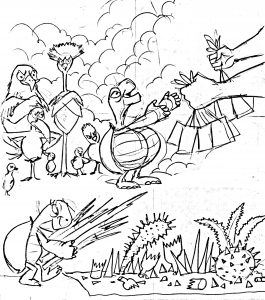 For the illustrators, Ute showed us how to approach a typical picture book project. First we create a storyboard from the script. This storyboard is very rough and allows the illustrator visualize the entire story scene by scene  and think in terms of dynamic and interesting camera angles. She also suggested keeping our drawings loose and fluid at this stage, (nothing detailed!) and 'try to make your scenes and your characters funny. Humor is very crucial to a children's picture book.' She said in her rather American accent. Surprisingly Ute Krause doesn't have a German accent Lol! Lol! The next stage for the illustrators was creating the characters. She emphasized the importance of using reference and doing research, to get accurate characters which subsequently go through the stage of simplification and stylization and hence resulting in something original and fresh rather than resorting to clichés. The participants were later paired to work on a picture book project. The aim was for both writer and illustrator to apply lessons acquired during the workshop and to see the value of collaborating on a children's book project where good communication between both parties results in a world class product! At some point Ute Krause had an exclusive session with the writers to help them fine tune their stories and discard redundant and unnecessary material. Simultaneously Abdulkareem Baba-Aminu also gave useful tips to the illustrators in terms of character design and simplifying and stylizing characters.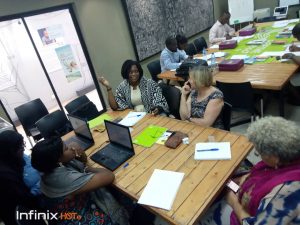 The workshop prompted me to do something I hadn't done in years since leaving art school. PAINT WITH WATERCOLOR!! It was a delightful experience. Ute Krause advised the illustrators on the need to use traditional media (watercolors, gouaches, crayons, colored pencils) more often. It gives your work a fresh hand made feel that cannot be easily achieved in a digital medium. It was good advice. Since leaving school and venturing into the commercial art world I have been sucked into its fast-paced world of hectic schedules and tight deadlines which necessitates working digitally. Painting digitally is expedient and trendy and remains my primary approach to painting due to the aforementioned reasons. But thanks to Ute Krause I will begin exploring traditional media again depending on the needs of a project and the client.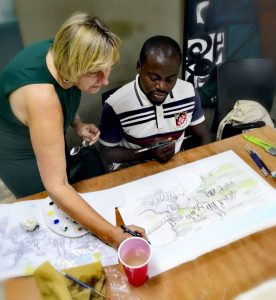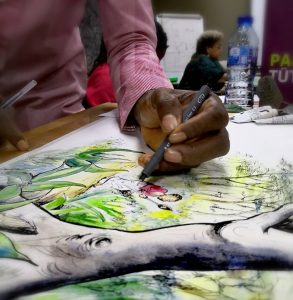 During the workshop an executive of a major publishing company based in Nigeria came around. She discussed issues ranging from the challenges facing publishers in Nigeria, to marketing and distribution, accepting scripts from writers, royalty agreements with authors and the threat of piracy. Suffice to say it was an interesting session that opened our eyes to the reality of the industry here in Nigeria.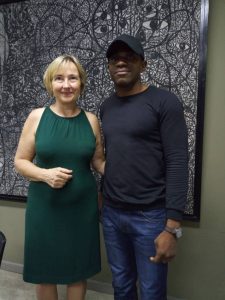 Due to time constraints, and the short duration of the workshop we were not able to finish our projects. Nevertheless Ute Krause urged us to work on completing them and that she might visit again sometime next year. As I look back, I am grateful that I participated in this workshop. It was a sort of crash course for me and I am determined to apply the lessons learnt as I work on subsequent projects, both client work and personal projects. I am presently working to complete the drawing of all scenes in the Tortoise story I am collaborating with Funmi Ilori; a co-participant I have been paired with.